The cost of living is constantly going up. Without changing their habits, Quebec families will have paid more this year for basic needs, such as food.
Sylvain Charlebois, Senior Director of Dalhousie University's Agri-Food Analytics Lab, estimates that the average household will have paid 5% more for groceries this year—or about $700 more annually—which is the largest increase in history when it comes to food costs.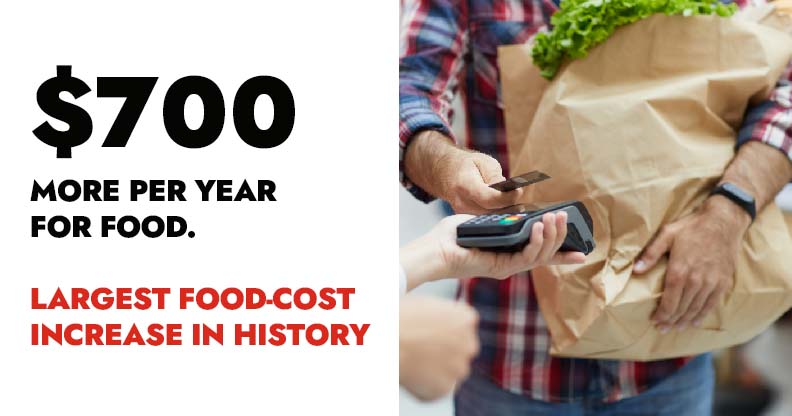 An increase that is difficult to digest
Low-income families are particularly affected by this spike in prices, as they already spend a much higher portion of their budget on food.
For years now, and especially since the beginning of the pandemic, more and more people have been using emergency food services, such as workers who have seen their incomes drop or people who have become isolated due to their age or health condition (disability, mental health problem, etc.). Even the middle class is losing purchasing power year after year. However, food is not the only thing that has increased in price, as people also have to find money in their budgets to cope with higher costs of housing, transportation, and other essentials.
---
What is an average household?
A family of two adults (31 to 50 years old)
+ two children, one boy (14-18) and one girl (9-13).
---
Food security for all
For decades, Centraide and the agencies it supports have been keeping a close eye on this situation and taking action to ensure food security in Greater Montreal. The focus has been on strategies ranging from food donations (which have been scaled up in recent months due to the pandemic) to longer-term and lasting solutions to help people eat better at a lower cost, such as collective gardens, group purchases, community grocery stores, and collective kitchens. In the post-pandemic period, a number of these initiatives put on hold due to health measures will be relaunched.
Emergency mode
At the height of the health crisis, over 2.2 million meals and 200,000 food baskets were delivered to individuals and families in need thanks to our COVID-19 Emergency Fund.
Recurring support
Centraide helps fund 95 community agencies and projects that provide food security to thousands of vulnerable people as a way to foster independence, contribute to sustainable development, and fight poverty. An annual investment of $5.9 million makes Centraide the largest food-security funder in Greater Montreal.
In two blog posts, discover Vert l'Harmonie, an urban agriculture project that is transforming a Mercier-Ouest HLM for the better, and Regroupement Partage, an exemplary agency that has stood out over the past months by showing flexibility to make changes to meet increased food-security needs.