Going hungry in a crisis
Food insecurity has never made headlines like it did in April in the midst of the lockdown.
Greater Montreal has been the Quebec region most affected by food insecurity issues precisely because it is home to half of Quebeckers living in poverty.
The pandemic made them even more vulnerable and caused sudden job losses which meant that even well-off families became food insecure.
> The equation is simple: when people run out of money,
they cut down on groceries first, because they have
no choice but to pay their rent or mortgage.
The situation improved in May thanks to financial measures made available to address the crisis. But as these measures have tapered off this fall, the fear is that food insecurity will rise again.
---
The numbers
28 %
This is the percentage of adults who had trouble getting food during the lockdown in Greater Montreal, the Quebec region most affected by food insecurity.
Read our Feeding Greater Montreal featured topic from the spring to understand the impact of the pandemic on the food assistance chain and how we were able to meet needs.
Read or reread our featurer topic
---
> We simply can't let people go hungry
Thanks to support from our COVID-19 Emergency Fund, many community agencies were able to reorganize to start producing frozen meals. Many agencies began handing out baskets and meals on a massive scale. For people who couldn't travel to pick up food, many delivery services were set up.
The results have been unprecedented. In spring and summer 2020:
2,226,462 meals were cooked and delivered
205,178 food baskets or meals were delivered or distributed
---
> Even before the health crisis,
thousands of people
were already experiencing food insecurity.
In 2019, before the crisis was even a blip on our radar, 200,000 people in Greater Montreal were already suffering from food insecurity. This issue is a feature of the Greater Montreal landscape, whether we're in a health crisis or not.

What is food insecurity?
Having to choose between rent and food
Reducing or cutting your grocery budget
Decreasing how much food you eat
Going without food to feed your children
Lacking nutritious food
Worrying that you can't put enough food on the table
How do you overcome food insecurity?
By making enough money to meet your basic needs
By having access to affordable housing
By having access to food markets in your neighbourhood
By knowing how to choose healthy and affordable foods
By knowing how to cook and store food
By knowing how to make the best use of your resources (money, time, etc.)
By having a good support network
By developing your self-sufficiency
---
What is Centraide doing?
Centraide supports lasting solutions that help people become self-sufficient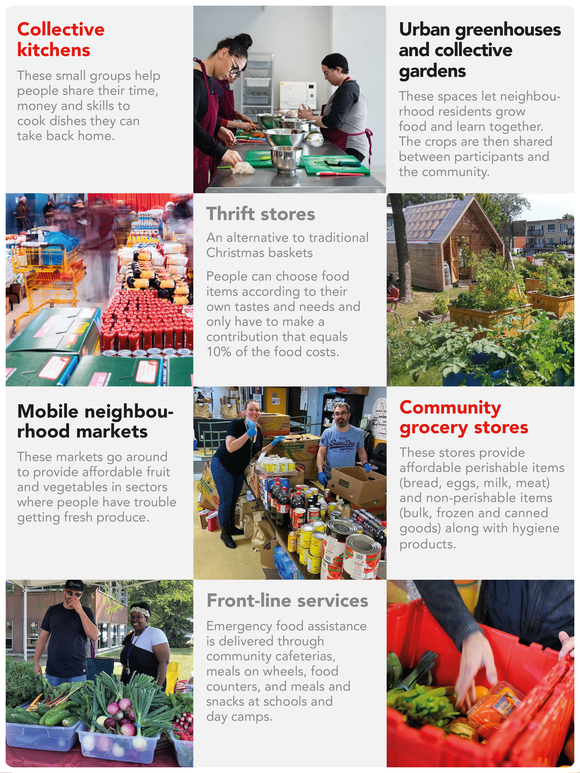 Centraide supports the implementation of local food systems
Found in most Montreal neighbourhoods, these systems promote food self-sufficiency, increase the availability of healthy and nutritious food, and help disadvantaged people eat better.
Produce is grown and harvested collectively in greenhouses and gardens.
Crops are distributed to community agencies.
Food is transformed in collective kitchens and at culinary workshops.
Transformed products are given back to people through neighbourhood markets and community grocery stores.
Meals are delivered to isolated people.