For this special year marking our 50th anniversary, we are launching a new ad campaign that will run for two years until August 2025.
This campaign will highlight the invaluable work of Centraide and the over 375 community agencies and projects in its network that help 800,000 people every year in Greater Montreal.
---
A powerful message with an impactful signature
This campaign is driven by a powerful message: that every person helped by Centraide becomes an agent of change who contributes to the well-being of all of society.
We can confidently state that when 1 out of 5 people receives our help. 5 out of 5 people benefit from it.
Moving video stories
The campaign centres on two moving videos about the experiences of two people who, although they have different stories, have one thing in common: both received significant help from Centraide-supported agencies at critical times in their lives. These videos lead us into their personal journeys to reveal Centraide's positive and diverse impact on our community while highlighting the complementarity of agencies that work together to offer much-needed support at different stages of life.
Meaningful illustrations
Centraide worked with Montreal illustrator Jérôme Mireault to create three meaningful illustrations to accompany this message. The artwork represents three of Centraide's key areas of intervention:
Academic perseverance
Accessibility
Housing and community life
Academic perseverance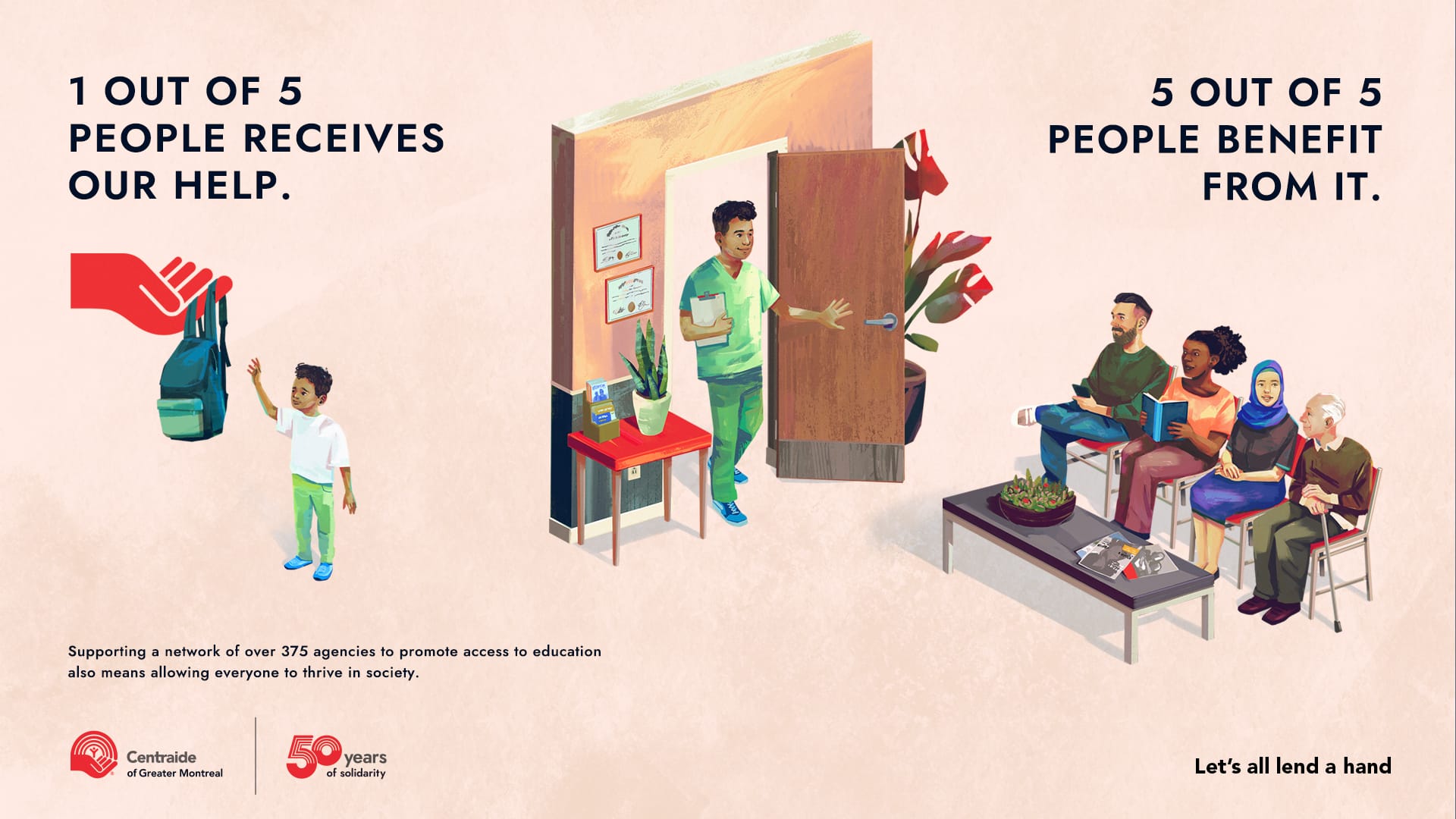 Accessility and Housing and Community life
Together, let's get the word out about this campaign
Community involvement will play an essential role in the success of this campaign. We encourage all of our volunteers, donors and partners to actively share this content to maximize its impact.
50 years of transformation
This ad campaign reminds us that every act of generosity and every gesture of support helps transform lives and build a more inclusive, poverty-free society. Over the next two years, look forward to being inspired, moved, and motivated to get involved with Centraide.
LET'S ALL LEND A HAND

A true call for action, our signature "Let's all lend a hand" will continue to encourage individuals, companies, institutions and foundations to do their part. This simple and straightforward signature invites everyone to help and contribute to the fight against poverty and social exclusion. 
*Credits:
Creative Agency: Rethink; Executive Creative Director: Xavier Blais; Creatives: Andrée-Anne Hallé, Patrick Seymour; Adaptation: Adrian Goodfriend; Strategy: Suzy Truong; Account Services: Mélanie Châteauneuf, Tim Jubinville, Mégane Landry, Adriana Marquis-Duzink; Electronic Production: Edith Cayer, Anita Abbasi; Graphics: Frederick Bailleul; Studio production: Scott Russell; Linguistics: Marie-Hélène Lessard, Davina Haisell; Production company: Carton Rouge; Executive production: Geneviève Sylvestre et Nicolas Robert; Director: Zoé Pelchat; Photo direction: Antoine Ryan; Camera assistant: Lawrence Labeau; Production management: Céline Courtois; Production Coordinator: Chloé Valiquette; Stage Manager: Laurence De Lafontaine; Editing: Vincent Ruel-Côté; Colorist: Simon Boisx, Arketype; Sound: Circonflex; Sound engineer: Craig Murdock; Illustrations: Jérôme Mireault; Media : Espace M – Vickie Dugas, Andréanne McKay, Ahmed Megdiche, Jennifer Tram.
---
1 out of 5 people receives our help.
5 out of 5 people benefit from it.
Let's all lend a hand
Supporting a network of over 375 community agencies also means promoting an inclusive, poverty-free society.
---