New life, new challenges.
Greater Montreal is a place that brings together people from a wide variety of cultures, ethnocultural and linguistic groups, and religions. It's where the vast majority of Quebecers from different cultural communities and immigrant backgrounds settle, including almost 9 out of 10 people who newly immigrate to the province.
Diversity breathes new life into our community. It is a source of cultural, social and economic wealth that makes Greater Montreal a unique place you can't help but feel attached to.
However, there are many challenges that immigrants must navigate.
While newcomers indeed have obstacles, these barriers can be overcome, as we see from many encouraging and inspiring stories.
Every person who finds their place is another step toward an even stronger Greater Montreal.
A community from all around the world
In the 19th century, immigration was mainly about the Irish in Griffintown, the African-American neighbourhood in what is now Little Burgundy, and the Asian settlers in Chinatown.
The major waves of 20th century immigration, however, were and are evident in the development of Saint-Laurent Boulevard: the street's new establishments tell the tale of new Jewish, Portuguese, Greek, and Italian settlers.

Contrary to popular belief, it isn't in the recent past that Canada welcomed the greatest number of new immigrants – it was in 1913.

That year 400,000 people immigrated to the territory, which at the time had a population of 8 million."
Today, fewer immigrants come from Western European countries, which makes for more diversified immigration. There are more new immigrants from North Africa, Asia and the Middle East, the Caribbean, and Central America.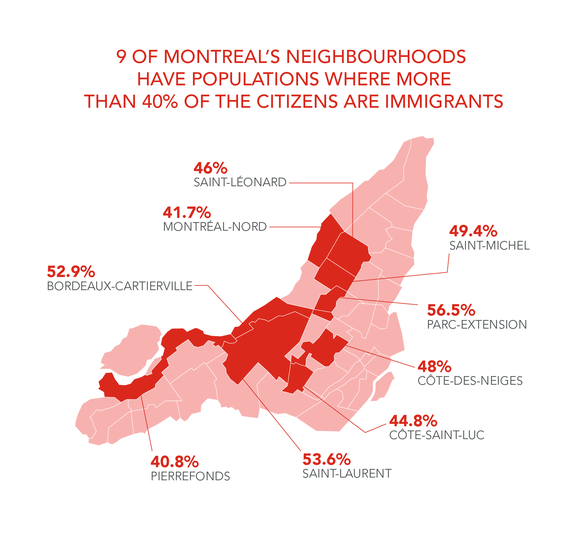 Challenges for many new immigrants
Although Greater Montreal is a warm, welcoming and inclusive community, the journey of a newcomer can be full of challenges: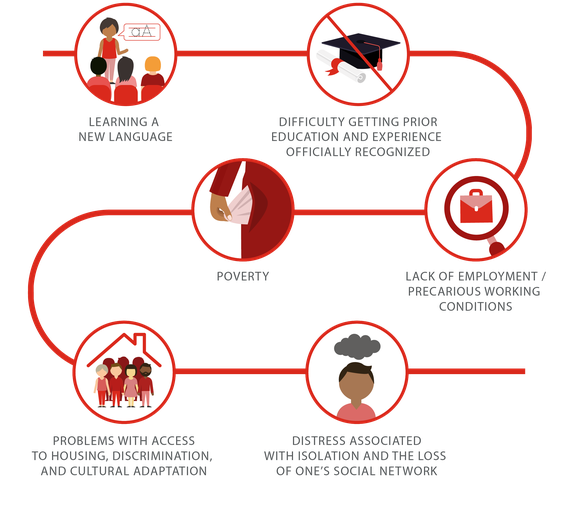 Fortunately, Centraide provides annual support to 10 agencies whose mission is directly related to welcoming newcomers and helping them integrate into their new communities. Centraide also supports another 70 agencies that offer a range of complementary services to support integration efforts.
These agencies offer immigrants:
Information
Psychosocial support
Assistance finding housing or employment
Anti-discrimination initiatives
Intercultural exchanges (where individuals are twinned together)
Parental support
Assistance interfacing with the school system
Drop-in daycare centres
Everyone has their own story
New immigrants all have a reason for leaving their home country and their roots.
For some, it's a question of danger, or a difficult economic situation; for others, it's the drive to experience new adventures in life, or the opportunity to take on new challenges.
Rama and Fares
When merely leaving their home had become a dangerous undertaking, Rama and Fares knew that it was time to leave Syria. They'd a good life there, before the war; Rama was a teacher and her husband, Fares, was a lawyer. But their living conditions have deteriorated, making the future increasingly uncertain—for them and for their children.
When the family finally arrived in Montreal, the relief they felt was immense. But along with that relief came some anxiety, and it was soon clear that there were serious difficulties associated with moving to a foreign country when you only have a rudimentary knowledge of the language.
It's very difficult to arrive in a new country where you don't understand the language. We had to be resourceful just to understand all the documents we had to fill out. There's so much to do when you first arrive, and it wasn't always easy.

Ramas et Fares
New immigrant
So Rama and her husband sought help. Through a Centraide-supported agency, they were able to find help getting settled in. For Rama, though, what proved most valuable was the social side of the agency: "The projects and programs they offered not only help new immigrants to integrate into the community, but also help Quebecers get to know us better," she explains. "They allow us to meet people, to discuss our different cultures, and to practise our French!"
"From now on, when I think about the future, I have a real sense of hope," adds Rama.
Julien
Julien is a native of Belgium who arrived in Montreal on October 1, 2009—with a suitcase and a one-year Working Holiday Visa.
My girlfriend and I had decided to travel, since we were young and didn't have much in the way of responsibilities. But an adventure that was supposed to last a year ultimately turned into the adventure of a lifetime. We fell in love with Montreal—its effervescence, its cosmopolitan side, the richness of the cultures you can find here, the quality of life…

So we took the steps required to try to stay here. And still today, we feel lucky to live in a neighbourhood we love, in a city we love, and to have started a family here. »

Julien
in Montreal on October 1, 2009
Myriam
When she arrived in Montreal in January 2016, Myriam got assistance from CARI St-Laurent, a Centraide-supported Montreal agency that helps new immigrants find work, find housing, learn French, and connect with people from the community.
Seeing as Myriam spoke perfect French, English, and Arabic, within months of her arrival she'd been hired on at that same agency—as part of the same team that had helped her settle in six months earlier.
I feel really privileged to have been able to rebuild my life, despite challenges and prejudices. Syrians have become a bit of a phenomenon. People think they know all about us, and we see everyone talking about us in the news… We're no longer seen as real human beings. We've become figures, statistics. But it's important to listen to people, and to really hear their stories."

Myriam
in Montreal in January 2016
Myriam now works directly with new immigrants from different backgrounds at the Centre social d'aide aux immigrants, a social assistance centre for immigrants. She sometimes wonders what she would do if she could go back in time, if there'd never been a war, would she go back to Aleppo?
"I would have to give up everything I have now. I know many people who lost their lives, and I saw my city destroyed. And I had what I had always dreamed of. But at what cost?"
What does Centraide do to help newcomers integrate?