Every day around the world, people leave their homes and countries with the hope of finding a better and safer life. More and more are crossing the borders of Canada and Quebec.
In 2022, the Quebec offices of the Canada Border Services Agency (CBSA) processed the claims of 51,340 asylum seekers from air, land and sea ports of entry.
---
2x more
asylum seekers
in Québec
Refugees, asylum seekers and migrants with a precarious status are people who have moved between countries and crossed borders.
Definitions
*Source: Gouvernement du Canada (Immigration, Réfugiés et Citoyenneté Canada) (2019).
Immigrants and non-permanent residents
One million people, or nearly a quarter (24%) of Greater Montreal's population, were born outside of Canada. In terms of their status, they are:
Canadian citizens through naturalization.
Permanent residents (people who have immigrated to Canada but who are not yet Canadian citizens; refugees are permanent residents).
These numbers include another 161,680 people who are:
Non-permanent residents (people on a work or study permit, asylum seekers waiting to be legally recognized as a refugee, and migrants with precarious status [MPS].)
An immigration path that is increasingly fraught
In Greater Montreal, the number of non-permanent residents more than doubled between 2016 and 2021, rising from 70,860 to 161,680.
According to an estimate by the SHERPA University Institute, approximately 50,000 people in Quebec (all sexes and ages combined) did not have medical insurance coverage in 2020.
Reports from the field
Community agencies carry out the bulk of the work to welcome refugees and asylum seekers in the Greater Montreal area. They are on the front lines to witness the difficult situations facing these people:
Housing issues, as temporary accommodations are overflowing.
More and more asylum seekers who are experiencing visible or hidden homelessness.
Limited resources for legal support and advice.
Accessing health care for asylum seekers is more complex.
No or limited childcare resources (drop-in centres, early childhood centres, etc.) for asylum seekers.
Just one resource for LGBTQIA+ refugees, which is already dealing with too much demand.
---
Centraide's response
To meet urgent needs and support refugees and asylum seekers who are at an increased risk of marginalization and poverty, Centraide is pleased to welcome four new agencies to its network:
This agency's primary mission is to mobilize the local community to provide immediate assistance to asylum seekers in very vulnerable situations. The Welcome Collective mainly helps these individuals when they arrive by providing items such as winter clothing, furniture, kitchen appliances, and other household goods.
©_Welcome_Collective
This non-profit and community-based legal clinic advocates for the civil, political and socio-economic rights of migrants with precarious status. It does this by helping its clients understand legal information, providing legal representation and psychosocial support, and collectively advocating for rights. The Migrant Justice Clinic opened in fall 2022.
©_Migrant_Justice_Clinic
Migrants from the LGBTQIA+ community are at risk of further marginalization and disadvantage. This is why AGIR Montréal does everything it can to protect them and defend their legal, social and economic rights.
©_AGIR_Montréal
The mission of this agency is to help newcomers integrate more easily into their new society by working with partner agencies; offering services such as food assistance and job search support; providing material support for basic necessities; delivering youth services; and more.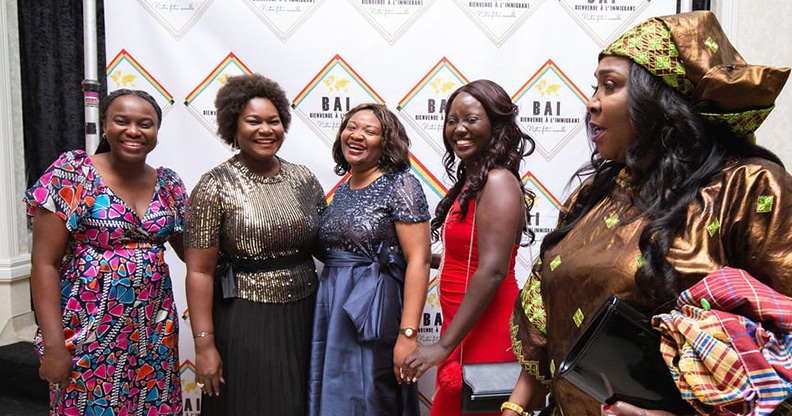 ©_Bienvenue_à_l'immigrant
Support throughout the migration process
These four new agencies have joined the 14 already supported by Centraide whose mission is to directly receive and include newcomers and are in addition to all agencies that are helping to address this crisis. These agencies do everything they can to meet the specific needs of individuals and families so that they can make a successful start in their new country.
Reception services and administrative support (applying for a health insurance card or social insurance number, searching for a daycare, registering children at school).
Support to find housing and employment.
Referral to resources: food and clothing assistance, health and social services.
Psychosocial and parental support: liaison with the school environment, drop-in services, mental health support (bereavement, trauma).
Many activities to promote knowledge of their host society, break isolation, encourage intercultural exchange.
Open letter from Claude Pinard, our President and General Manager, published in La Presse on December 13, 2022
---
1 out of 5 people receives our help.
5 out of 5 people benefit from it.
Let's all lend a hand
Supporting a network of over 375 community agencies also means promoting an inclusive, poverty-free society.
---