Our allies, today and for
the future
Planned giving donors are people who not only contribute to the annual campaign but also support Centraide's mission over the long term, for example, by leaving a gift in their will, donating a life insurance policy, or creating an endowment fund. Once realized, these valuable contributions are then invested in the Generations Fund.
By choosing to make a planned gift, these individuals become members of the Generations' Circle as a way of thanking them and honouring their commitment to the future generations of the Greater Montreal community.
Benefits of making a planned donation include:
Passing on your values of sharing and generosity.
Investing to fight poverty and social exclusion.
Providing sustainable income so that Centraide can fulfill its mission long into the future.
TESTIMONIALS FROM OUR DONORS
Our annual Centraide donation is a way for us to meet the current needs of our community. Our planned gift is different; it is a way to endow our contribution, thus ensuring that the living conditions for future generations continue to improve, while supporting the betterment of our great city of Montreal as its needs change in the future.
When we were young, anonymous donors provided generous support that covered Mitch's tuition. This opportunity came with a moral obligation that we are more than happy to fulfill: giving back to future generations so that they too get the chance to realize their dreams. Our planned gift is our way of thanking society for the good fortune and the opportunities we had."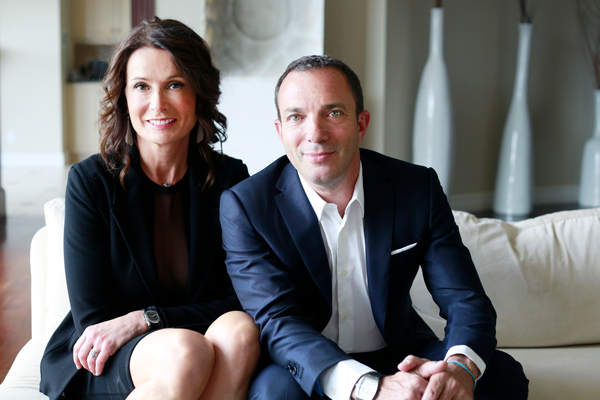 We are currently going through a difficult period, which has had a major impact on inequality in Greater Montreal. In this climate of uncertainty, Centraide has been proactive and fast to react, quickly raising and allocating funds to key agencies and providing targeted aid to the vulnerable populations that have been most affected by the crisis. This agility and expertise motivated me to create a bequest in my will for Centraide so that future generations will also be able to benefit from its presence in Greater Montreal. A great way to do our part is to help reduce inequality in the cities we love and live in, even after we're gone."
We both grew up around people who taught us to be humble in our success—which is a result of not only hard work and sacrifice, but also circumstance. There's a lot of luck in there, too. As adults, we discovered philanthropy thanks to our professional network, which is very involved in the community."
I know I have been privileged. I was born in a prosperous country, into a well-to-do family… and I had parents who taught me early on that living as we did wasn't exactly common. But the most valuable gifts my parents gave me were an education and an open-minded perspective, which helped open my eyes to the inequalities that still prevail in our society. This is why I have chosen to donate a portion of my estate to Centraide. By doing this, I can be assured that my legacy will be reinvested fairly throughout our community according to the needs of each region, hoping this philanthropic contribution can help to decrease social disparity."
My friend Yolande was always invested in social causes. Her life's journey brought her onto that path. She was born into a modest social background and was recruited to set up playgrounds for young people from disadvantaged neighbourhoods in her region. I think that's what sparked her initial interest in helping the community. She was then a teacher and a social worker mainly in the Centre-Sud area. She really enjoyed her work and was devoted to the causes she cared about, in particular, families, children, and people with disabilities. She participated in neighbourhood tours organized by Centraide and was impressed and moved by the variety of causes the organization supports. I believe that was what encouraged her to make a gift in her will. She saw that Centraide was a reputable organization that she could entrust with money in her will and that her donation would benefit society for a long time."

Thank you to the members of the generations' circle!
This directory presents all the Generations' Circle members who wish to have their name published. Find out by filtering your search by name.
Filters
Suzanne Legge and R. Jeffrey Orr
Michelle Riopel and John Mustard
Amelia and Lino A. Saputo
Irene Nattel and Louis Morissette
GENERATIONS' CIRCLE DIRECTORY

Includes the list of donors who have made a planned gift, the list of all gifts from estates for which an individual made a gift to Centraide in his or her will or named Centraide as the beneficiary of a life insurance policy, as well as the list of donors who made a significant gift to the Generations Fund.
---
Would you like more information?
Discover the different ways to make a planned gift
CONTACT THE PLANNED GIVING DEPARTMENT