One year after the health crisis and as the COVID-19 situation evolves, surveys and statistics are starting to reveal the true impact of the pandemic on vulnerable people. These facts should not be ignored until the crisis is over. The time to act is now. In difficult times, vulnerable people become even more vulnerable. This means we have to pay attention to these warning signs.
According to the Observatoire des tout-petits, a large percentage of parents surveyed (68%) feel that parenting is more challenging now than it was before the pandemic. What's more, 51% say that their stress level from the COVID-19 situation is high due to a number of factors, such as lower incomes, a job loss, food insecurity, housing problems, and other issues.
All surveys point to the same thing: stress levels have drastically increased among parents. The numbers speak for themselves: 41% of parents in single-parent families versus 20% of two-parent families rated their mental health as poor or very poor in January.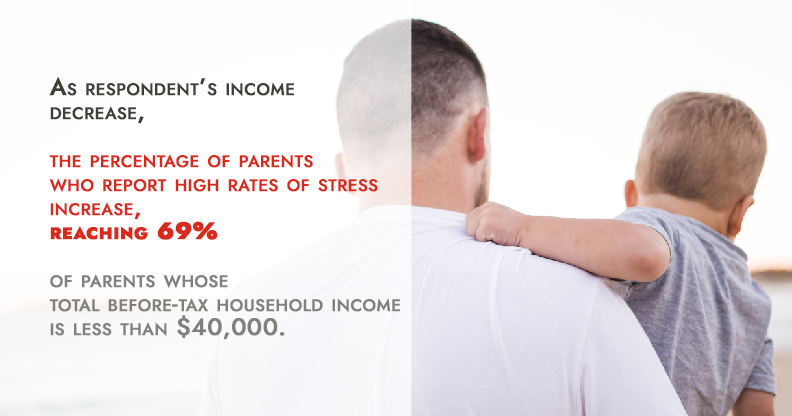 The importance of supporting families
The agencies supported by Centraide are working to alleviate the social impacts of the health crisis. One imperative is to support these families so that all members can find a mental balance.
The pandemic has also increased isolation when families can no longer count on the usual support of their loved ones. Due to physical distancing measures, 43% of respondents stated that they cannot rely on their usual sources of support. What's more, 15% of respondents had no one in their network to turn to for support even before the pandemic.
Centraide supports agencies throughout its territory that create an important safety net and strong network around children and families. These agencies have adapted and innovated to meet needs despite a health crisis that makes providing help even more complex. We must recognize all of the work done by these agencies, which have gone above and beyond and shown great imagination to help families.
---
[1]*Source: Léger survey conducted with the Association for Canadian Studies, and a Léger survey, January 13, 2021: https://acs-aec.ca/wp-content/uploads/2021/01/Sante%CC%81-mentale-et-confinement-1-13-janvier-2021.pdf