Philippe had a good life with his wife and two children before depression took everything away. He lost his job and then his family, his belongings and his apartment. La Casa Bernard-Hubert helped him get back on track, feel at home, recover from depression, and take back control over his life.
---
"My name is Philippe. I'm originally from France, but I've lived in Quebec for many years. I moved here because I fell in love with the woman who would become the mother of my two children. I am an electrical mechanic and always worked until depression hit me."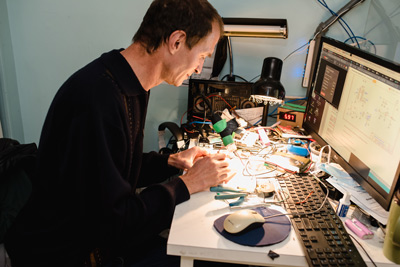 Slowly but surely, my symptoms gradually became a daily misery. I couldn't work and lost my job. I had many anxiety attacks every day and was exhausted all the time. My problems ended my marriage and broke up my family. I had to pay for my apartment by myself with little income. I went to a food bank near my home before it closed temporarily because of the pandemic. I had to choose between paying my rent and buying food. I'm alive today, so that means I didn't pay my rent.
"After a series of late rent payments, a bailiff evicted me from my apartment. I found myself on the street with nothing but a backpack and some underwear."
Police officers referred me to a shelter. I then went to the shelter services at La Casa Bernard-Hubert. I met men who all had similar stories. I especially managed to let go of my burdens, relax, and find some peace. I always wanted to overcome my depression. The staff at La Casa Bernard-Hubert reassured me, supported me and helped me bounce back.

"After spending many months at La Casa, I left the housing service and I am starting a new training program. I'm so proud to say that I am finally taking back control of my life."
– Philippe
Thanks to the generosity of donors like you, Centraide can support a network of over 350 agencies that help people like Philippe find housing, regain control of their lives, and find a new place in society.
Watch Philippe's testimony
---
1 out of 5 people receives our help.
5 out of 5 people benefit from it.
Let's all lend a hand
Supporting a network of over 375 community agencies also means promoting an inclusive, poverty-free society.
---